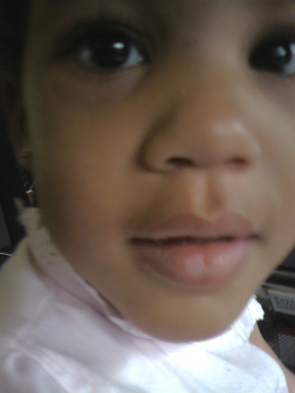 Alexa is her name , I call her Queen Alexa the dainty and Tsunami . She was born of 29 weeks. Born to this world with very little possibilities of survival , she made it with all the strength and courage only some see in a hero , and according to the attending pediatrician, smiling. She is about to turn 4 and she loves anything that makes noise. Loves to dance , plays her piano and her harmonica like an expert and loves to argue her point in her jargon like a lawyer when she does not get her way. I love it when she does that !!! Recently diagnosed (like a year, now) she goes to an amazing school where she is so at ease that she loves it.
At school they call her Miss Elegant and they see her talent in music. Extremely strong and persistent, she never gives up and usually reaches her goal in a very little time , like the time she saw her older cousin climbing the big kids Jungle Gym through the slide ,she was 2 and went all the way up in her third attempt , with that she proved me that she is fearless and that there is not much i can do except but panic and make sure she does not hurt herself . She is an unstoppable force and that is why I call her tsunami. LOL!!! Oh My Alexa!!! I know she will do great , there is no other way.
A fighter, a warrior and a hero . Queen Alexa the dainty and a force of nature to reckon with!