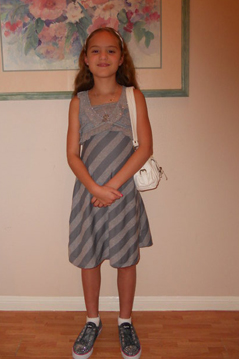 Only people who have an autistic child can possibly know how it feels to hear the news of his or her own child being diagnosed with "Autism Spectrum Disorder".   How your world comes crumbling under your feet, how your heart wanted to stop the very moment, unable to block out what you had just heard.  This was I and I am sure was the same way my husband felt when he heard the devastating news.  Probably he was more in a denial than me, for my motherly instinct was that something is wrong.   At first, everything appeared Ok. Our daughter Siobhan, an energetic infant, full of smiles, growing lovely in all aspect, developing to her age, was able to talk, at least three word sentence, can memorized her ABC, count to 10, even backwards, then at to a point to 20, knows some basic colors and shapes before the age of two.  At then, at some point, Siobhan's progress stopped and she started going backward, to the point she stops talking altogether.  Her pediatrician (fearing the worst) recommended a child psychiatrist who gave us the news; Siobhan has "Pervasive Developmental Disorder" (PDD), a type of Autism. 
PDD…what's that?  What causes it?  How can we fix it?  I had the  "gut" feeling and had seen the change in sudden behavior and withdrawal in words, and people, (even her close family members).  These were some of the signs of Autism.   I can recalled trying to get Siobhan to say the word "juice" was a four hour struggle, with crying and tantrum, only pointing towards the refrigerator refusing to say "juice",  (which she love, drinking 1 cartoon of juice a day) just simply walk away and curled up on the sofa.  Most of the time, I simply can't get her to do anything; she was always in a "quiet state" staring.   Siobhan will not make "eye contact", sometimes response to her name, in a quick glance to us.  She was very quiet, kept to herself most of the time, but yet can't keep still, jumping up and down.   Siobhan's food appetite had changed; she evolved from a child willing to try new things to an extremely picky eater.  She will not interact with babies her own age while she was in a playgroup, keep clinging to me, or will play in a corner by herself.  These were some of the changes had me wondering "Why?"   Siobhan was a healthy baby otherwise; we live a normal healthy life, with no wild lifestyle, that can cause damage to my baby or myself.  I previously had two normal deliveries of two healthy and normal baby girls before she was born.  We were told it was not our fault as parents, and that the cause of autism remains unknown.

Siobhan school lessons at present (as of 1st & 2nd grade)
Since school had started in August 2006, Siobhan has attended Special Education Classes.  When she started, she was unable to talk, communicate, and socialize.  She was in her own little world and surroundings.  Her training, conducted to be a dedicated staff of teachers, speech and occupational therapists, she has gained the foundation to cope with words again and gained some social skills and behavior skills.  As well with some given basic school lessons in understanding the concepts of things around her, helping her in a visual way, by using  "picture cards". This has been her main focus point in her life, which lead her to understanding more things in details.   She then went on to a different public school in 2007- 2008, attending Kindergarten at age 5 with regular kids, as well as being in a Special Education Class with therapist assisting her.  She was being able to further in developing more skills to her learning disabilities and put it to use.  As parents, we were pleased with her achievement she had gained since age four until presently at age seven.   We had seen a tremendous change of who she was and who she is at present. She had made sufficient progress towards her I.E.P. goals  (as stated in her school curriculum) in Cognitive Skills, Language Skills, Social Skills, Speech and Fine Motor. In which she has advanced to her school level.  As advancing from 'Special Ed. Classes to now being able to cope with the regular school work in 'regular classes 'as well as attending 'resources classes' to boast up her concentration and focus level to excel.
The training, however, has also exposed other problems of which we were not aware.  Siobhan has a slight problem with her Fine Motor Skills; she is unable to use her fingers to grip a pencil to write her letters.  We understand this can be a problem related to her Autism; most autistic children have difficult in writing, or simply don't want to write.  She rather spells her full name out loud or on the keyboard.  Another cause can be lack of muscle movements of her fingers; but with proper techniques in using objects to control the finger muscles she can be able to write.  A list of objects was sent to be used as practice at home to help her finger muscles.  She is making effort in tracing her letters, mainly the beginning of her name and numbers.  She sometimes tries to write on her blackboard at home.  She can write a 0  + X  -. Lately, after entering 1st grade, she is improving on her fine motor skills, by drawing lines, using a scissor to cut straight lines and holding the pencil now to be able to write her name.  She now can spell her numbers from one to three count by 2,5,10. Can identify living and non-living, items as first, middle, last.  Identify some coins, hours of the day, temperatures as hot or cold, people or workers in a community, repeat a short stories with pictures or using words and sentence, as respond to asked questions. She is at the stage can recite a bit of her school pledge and want to be involved in any school activities performing in front of an audience. She look forward in seeing if her parents are in the audience, doing her best for us.  I can sense the disappointment for her, when it was her school end of year- 1st grade show, she did not attend, and due she was sick; she did however recite for us and her aunt and cousins, the recital of "the lemonade", over the microphone.  She is advancing towards reaching her goals as shown on her first grade school Report Card as an  "excellence student". Siobhan is promoted to 2nd Grade, with her regular peers as well as place in  "Resources Class", (smaller group) to help her to comprehend and focus better on her weaker subjects.  Her comprehension level is expanding, where she can focus on everyday occurrences such as when she was sick, she can ask to go to the doctor, or when her father called on the telephone she can response on the phone, or asking to visit her grand mom, as in wanted to color a picture for her to mail to her, in which she signed her full name at the bottom of the picture.
Beside this her school lessons is coming along fine, having some knowledge (from an earlier age) to applied to her school lessons as well as having social skills, in which she is now interacting with kids her age.  She now has a best buddy at school that she relates to. More class hours had been extended to suit her abilities of learning level, which is increasing rapidly, as well as her behavior is improving.  She sits well listening to guest speakers at school. She is now being able to participate in-group sessions with regular children, doing "show & tell " and reading in front of the class, as well as listening and responding well to questions being asked to her.  Her reading and spelling is amazing as well as her skills in Computer.  These are her strong strengths.  She has done well in phonics, in which she says the name of an object and tells you the beginning of the word or tries to spell it.  This helps her with her speech, in which we are using more reinforcement in prompting her for more words to be used effectively in communication, as suggested by her speech therapist.  She is saying four to six words sentences.  She is a well-observed child, willing to explore and learn more.  Her memory level is well beyond expectation, which helps her in her visual learning as well as processing from using her senses enabling her to cope and understand things around her, leading her towards becoming Independent.
She has mastered the basic techniques of doing things for her age group, like putting on her shoes, clothes (have trouble sometimes with her pants buttons), using the potty, (had fully mastered the potty at age 4 ½) trying to brush her hair, love dressing up, now carries her purse everywhere she goes, saying "let's go to the store".  She is now into playing with dolls and toys, she had once lost interest in, love to give her doll a bath. She had mastered washing out her mouth when using her toothpaste.  Tidy her room by saying "cleanup"  "pickup your toys" after playing, or wiping up a mess.  She enjoy being among kids and watching or playing with them.  She like birthday parties, mainly the balloons, bubbles and singing the birthday song (although she will not eat the cake or food). She participates in Halloween, dressing up in costumes and doing "Story Book School Parade", like a "mermaid", another time dress like a " snow princess".  She love going on school field trips.   She recently took a class photo, which for the first time came out wonderful, with her looking into the camera smiling. (I guess, seeing the other kids doing so, motivate her). This make us very proud, seeing how well compose she was.    We were so touch to see how well (shy) she walks up the aisle to obtain her given diploma without any assistance, how well she participated in the graduation ceremony and the end of the marching parade, enjoying herself jumping up and down.  She looks so intelligent in her graduation photo.
Summer-break (promoted to 1st grade)

Over the summer break, Siobhan shows a bit of confusion to her changes of days of the weeks referring to weekends earlier as days off from school, later she adjust well to every day changing the calendar daily, can't wait for school to start again saying "where is my friends", I don't see my friends", I know my friends at school".  She understood school would start in August.  To our surprised, on the 1st of August, she woke up early, got her school bag saying, "it's August, it's time for school, come on". I had to inform her on August 25th is when school starts, so she keeps counting the days leading up to 25th of August.  Siobhan turned six during the summer break, (well aware her birthday was coming up) and had adjusted well to new changes, new places like being to a "big screen movie theater" for the first time, Circus, Concerts, water parks/pools and Space Center (which she talks about space, the moon a lot – like her father going to a mission in space when he travels abroad, although she knows he comes back in an airplane.  What an imagination!  A sense of humor!  Lately, she has been asking for her friends, pretending her friends are in front of her, talking with them, even to some sort of objects (mainly her purse) expecting the object to respond to her.  She sometimes takes out her frustrations on these objects, which seems to calm her down.  She does misses her friends and school which could have lead to some frustrations at home, having a long summer break.
Summer-break (promoted to 2nd grade)

Siobhan is now aware we have holidays off from school, as she is going into a new class.  She misses her friends, but glad to be home for the holidays to catch up on her video games and seeing her old movies (classical Disney & tom & jerry series).  She fell in love with "Cinderella", in which she refers herself as "Princess Siobhan". We make it into a fun movie day… She did went to see the new movie out "UP", but not in 3D, fear it might be too much for her… She love hanging at home with her sisters making cakes and cupcakes, she now eats, Vanilla flavor only.  Love to be in her own outdoors pool.  Siobhan went to the beauty salon  (to cut her hair for her upcoming 7th birthday); She went to the circus  (second time) and a children magical show. She enjoys her 7th birthday with her family and later plays her "UP Wii" game,  (one of her birthday gift) with all her balloons around her.   She enjoy our family reunion meeting her young cousin and playing quickly with her.  My sister and brother was so impressed with her improvement and just being among them.  My sister took her to the musuem and the waterpark without me.  She had a blast, just being with them.   She is becoming in acceptance with the idea of going out without me or having me around her all the time and for her sisters to help take care of her.  Siobhan is so well relax into her holidays, as when asked her if she misses school, she said "no school yet!  No teachers!  Nevertheless, she became more into it getting excited when she started shopping around for her school supplies and school clothes. She was a bit uncertain to go meet her new teachers and see her new classroom, as waned to be there, but wanted to go home immediately.
Christmas-break (as in 1st grade)

Siobhan is beginning to understand what Christmas is all about.  She had a wonderful Christmas.  She had started early playing her Christmas music and looking at her Christmas videos, "Charlie Brown Christmas Story", and  "The Wiggles Christmas show" has become her favorite, which she did not care for last year. She took photos with Santa, which she has never done before.  She loves posing in front of the lights and decorations for photos.  She had been surfing the Internet for her Christmas presents, which had given us a clue to what she wanted.  She was all excited when she discovered she were given what she wanted, this made her day!  Her three favorites presents- a Leap Frog/ Lespster2 handheld video game with a first grade level in writing and drawing and Dora Snow Princess Wii game along with her lighted Disney Princess Castle.  She learned quickly to operate the video game and the Wii, the new learning activity/motion sport game.  She experience "ice skating" in the ice rink and "roller skating" as well as discovered "snow" for the first time in her life – rather "fallen snow flaxes", which she was so happy running around catching the snowflakes in her tiny hand and feeling the icy cold breeze against her face. What a joy to see her excitement!  She love dancing with the tune "Frosty the Snowman", while watching the dancing water fountain displaying colorful lights.  She was on her best behavior entertaining her aunt and cousins visiting, she mingles so well with them, they were so impressed on her improvements, behavior.  She realizes school is about to start again after all the decorations had been taken down and is asking to see her friends. She was so full of excitement going back to school again!
Siobhan's Developing Personality (at age six)
Siobhan has evolved from a quiet introvert, unwilling to engage in any social interaction to a lovable child, full of energy, always laughing, bonding with her family.   Like to tickle you or want to be tickle.  Full of hugs and kisses, holding our face in her tiny palm of hands, saying to us "are you okay mommy," "it's all right", " don't worry", "sorry mommy", with a sincere expression.  She now can be somewhat be demanding, saying, "Let's go now", "it is time"  "come on mommy", but it is much better than the non-speaking introvert we once knew Siobhan to be.  Lately, she acts out like a mother figure, saying very loud pointing to her elderly sisters, by calling their names, "Come downstairs, come eat now", or sometimes she would say "Go bath now, it's time to bath now".  "Go sleep".  In the mornings she will knock on our doors and say, "get up, it's time to wake up".  She will help her Dad to make coffee in the morning and set the table for breakfast, placing mats, cereal bowls and place cereal box for each one of us.  She help me to make her breakfast, by getting her bowl and using a wooden spoon to cook her eggs, saying " circle, we making a circle". She also likes to help her sister in making cookies and cakes.  She did try a bit of the cookie, but refuse to eat later. 

Despite all her demands, though, she is sweet and mannerly, now regularly using the words "please", "Thank-you", "You are Welcome",  "Blessed You",  "Excuse me",  "Sorry"," I", "How are you", Good Morning", "Bye" and "See you Soon".  She love to greet people (by their names if she knows you) and be among people; crowds and loud noise don't bother her anymore.  She wants to be involved with every thing around her and her family.  She loves feeding our dog.   She loves music, dancing, singing a bit to words of nursery rhymes and dancing to its music.  She also says a few learned sentences on the Karaoke, about herself. She loves most of the time watching TV and surfing the Internet doing videos.  She love learning from her favorite videos "Dora the Explore" learning new Spanish words applying the words in the correct text.  She has demonstrated interest in learning to play an instrument, including the piano and violin.  She loves school, and look forward to riding the school bus.  She enjoys being outdoors and experiencing nature – birds, butterflies, squirrels, dogs, fishes, waterfalls, trees, by simply feeling the breeze against her face while walking through or riding her bike on the pathway in which she had learned to ride in three days after Christmas.   She love going to the park, playing ball, trips to the mall, to the pet shop and the children museum.  Sometimes it seems she loves her trips too much because she does not want to go home, even after several hours. We have no problem going on long rides on vacations, (don't want to stop at our destinations, just keep going; we still have yet to try her on a airplane). She enjoys being in a hotel.   She sits with us in open restaurant, but not for too long.

At home she is well adjusted to her daily routines, making changes on her own, relax and play on her own or with her sisters (now teenagers) imitating them, or getting into mischief with them like playing around with their stuff "giggling", just having fun! She enjoyed watching family movie at home( a recent movie "Enchanted") and had an interest in seeing a movie at the movie theater, Wale – a clip she saw on the Internet.  She was so into the movie, giggling, sitting still most of the time; smiling and happy she was there.  My heart fill with joy just watching her, glad to see how well she "fit in the crowd", as I supposed, as a normal child.  As a reward she went to her favorite restaurant with the waterfall, this just made her day!  She now enjoys the 4th of July "fireworks", saying "Happy 4th July/ Happy Birthday" USA, but still gets confused as it is supposed to be a party asking for the balloons and where is her friends.   Siobhan has become a "chatter-box", "loud", always moving around, in a hurry, wants to help around the house, or do things herself, a perfectionist – saying "try again" if she does it wrong.  Her imagination has expanded so does her choice of words used.  She is always on the go- wants to go and do things like her sisters.  She did go to her second 'big screen' movie theater to see "UP", we got her the "Wii game"; she was over joy playing the game.
Siobhan's developing Personality as (age seven)

Siobhan is still amazing us with her changes in personality, (as developing slowly away from Autism) as she is become more aware of her body, her choice of words uses, her awareness of things around her as advancing to her mainstream of independence.  She is eating more as adapting to new food, like to have new "stylist" clothes and wants to explore new things and places.   For the first time we went shopping, just myself and her (her mother) to the Mall.  (Considering not long ago, the family, had to go with her to the Mall for fear of her uncontrollable behaviour/tanthrum –like screaming and falling on the ground when she can't have her ways) I knew this time it was going to be fine!  She wondered around holding my hand, feeling 'quiet grown-up like, very important, carrying her purse, then carrying bags of clothes and shoes we had just brought.  She like the shoe department more. We shop for two hours without any behavior problem; she did insist nicely/shyly to see the pet shop and for us to uses the elevator. I was so proud of her, and felt joy and hope to see how far she had come.  This was a 'big' step for her to accomplish on her own. Most of our fears are over now, when we take her out, a 'major achievement' score!

Siobhan still amazes us, by having no 'fear' of taking out her tooth all by herself twice, but yet having fears of 'clipping her fingernails and toenails", this is such a painful thing for her in her mind.  We choke at these two concepts of her ability of thinking!  What a great dentist she will make someday!
Her Challenges as her autistic abilities: -
Siobhan still has her challenges.  She gets frustrated easily; she demonstrates symptoms of "Obsessive Compulsive Disorder" (like closing & opening doors, putting on lights in certain room and lately gets frustrated  (sometimes) if her clothes gets a bit wet.  She had started a new rival habit of putting down and moving things to put back in the right spot like a few of her personal stuff.  She will get moody if something is missing (her attached toys) if she can't find it immediately.  She will get frustrated or mad, by acting out to a toy, saying "bad toy", when being scole, or come to you, scolding you, bumping her head in your tummy. It all depends on the circumstances, for sometimes she will say "sorry". She has the habit of brining downstairs some of her toys every morning and taking it back to her room every night.  This used to be a problem when getting her ready for school (having limited time!). Sometimes she would walk to & fro twice to go and sit down to eat, this is fairly new.   She is still a picky eater (sometimes she will try eating ham and chicken (shake& bake only); however she did ask us to buy "Tyson chicken nuggets", which she saw the kids eating on the TV.  She will take a bit, or sometimes eat a good piece.  She did this to her animal cracker as well to marshmallows.  She is now eating ice cream in a cone, vanilla & chocolate. These are the only snack she will try on her own. She insists on using the public bathroom wherever we go.  She reacts abnormally to over-stimulation and jumps in place or makes "goggling noises", flapping her hands and crossing her eyes, as a reaction to the stimulation.  She reacts if you take off her socks, must have on her socks all day, even at bedtime!  Sometimes, she reacts if I am (mom) not around, will go into tantrum for a short time, she is still attached to me and wants all my attention, we have to sometimes hug as a family so she is don't get jealous. 
Her Challenges as in progressing towards her mainstream: -
The challenges however are taking a back seat to the progress she has made. She now mastered writing her words, which was a struggle for her in fine motor skills using her fingers.  Her tantrums is getting fewer when she goes out, I supposed as aware it is not acceptable, lately instead of getting into a tantrum for something she must have at the  'electronic store', she quickly point a "no-no" finger at her Dad, when her Dad was putting back a certain toy she desire. Saying "Daddy No"/"No Daddy", with a stern face as you dear not put the toy back.  Going to the doctor is less stressful lately, (she will ask to go to the doctor as telling us she is sick), for she shows no tantrums, she acts as "normal as can be", listening and responding to the doctor, asking "what's next?" while she plays with her electronic toy while waiting for her test results. Before diagnose, it used to be a "struggle" with the family has to be there to try to hold her down for examination with her yelling and running around.  A huge challenge, which we had been waiting for, was when she surprises us, by drinking a few mouthful of orange juice and milk, in which she seems to like the milk more.  She now carries her box juice to school for lunchtime.   She will drink the 'grape' juice in a glass. She did eat a few bits of my birthday chocolate cake and tried the strawberry toppings as well. She was so excited when she tried it! She tried new food items.  (Like ham, shake & baked chicken, bacon, brisket, French-fries, ice cream -vanilla & chocolate, vanilla cake, Pringles chips).
Most of her obsessive and repetitive act, she no longer does. Presently, she no longer puts on her socks everyday (due to a shoe she called "Princess Cinderella" shoe.  She even goes to the store without her sock, especially in this hot summer.  She stop (seldom) putting on & off lights.  Over the years she had stop, line up her toys.  She no longer obsesses over bottles, or a certain bottle of lotion when we go to the supermarket she wants us to buy and look for it in the shopping cart.  She no longer flushes the toilet twice.  She seldom turns on & off the lights.  She no longer takes down certain toys to & fro during the day. She no longer scream at shows on the television, that somewhat triggers her mind, she simply walk away, or rather watches her favorite "Disney Shows", in which she is now into more movies for her age group. She is now into playing with her toys and dolls. She now chooses a book and her school reading book to read at bedtime; before it was 10 set of books that has to be read in order at bedtime in which I can't forget a word on the page for she has it memorized.  Stop using "The End" word after each sentence or story.  Now I can read her one story of her choice or chose one, or simply lay my head on her pillow, for her to sleep, when she wants me to do so, saying  "Goodnight, I love you mommy".  She is getting closer to her father, in which she wants him to carry her to bed, saying "Good night Daddy, I love you", also saying goodnight to her sisters giving each one of them hugs and kisses.  She will sleep through the nights and seldom gives trouble in the morning for school.  She has stop bringing downstairs her toys and taking it up every nights. (Which was a new habit of hers). She has fewer tantrums in public places, mainly the book store, in which she don't want to leave after two hours of being there, or must have a book to take home.  She love going to the supermarket, will help pick out her food item, sometimes she will show some tantrums in which we have to quickly stop shopping. (When she runs around the store). She has her favorite stores, she must go to. Often when she gets in the vehicle she will tell us "seat belts, so we can be safe" and puts on her seat belt herself.
One of her 'biggest' challenges, I must say, was when I had to stay an overnight in the hospital, how she will react to us being apart for the first time.  She astonished us, by cooperating in doing her usual stuff around the house, asking, "where is mommy" let's go pick up mommy at the doctor". " "No store, No buying, we have to pick up mommy now".  She did not go into tantrums, just waited for a long time, and accepted the idea that mommy coming back, then she fell asleep. She was happy to see me the next day, showing no resentment. This makes me so proud of her! 

A recent challenge, one of the biggest challenges on her compulsory side was when she overcomes her obsession with putting on her socks every day.  She now wears her shoe in the house and outside without her socks. Her aunt gave her a 'fancy' shoe she called Princess Shoe (Cinderella movie she fell in love with), before I used to take off her socks on & off setting rules socks is only for bedtime and going to restaurants, not for outdoors in the hot summer.  At this point it seems to be working.

Another "big Challenge", is how "well observant " and independent" she has become by using my cellar phone calling her father at work conversing with him.  Asking him "Daddy, this is Siobhan, how are you? "where are you",  "when you coming home". (Although she sometimes doesn't want to speak to him whenever he is abroad calling to speak to her).  I was so surprised to know she did this on her own, and later on watching her speaking to her aunt conversing on the phone with her.  Lately, (close to the end of the school year), she was aware she was sick, by asking us "let's go to the doctor".  I ask her "are you sick"?", "yes", "what's wrong?" She responded "my ears hurts".  It did indeed turned out she did have an ear infection.  Another observant, was when she saw that the Circus was coming, she ask her father, " daddy, lets go to circus, it's time to go to the Circus". We ask her why she wants to go to the circus. "Because I love animals" at that point she responded, "we must buy tickets", yes!" This made us laugh. "Happy Siobhan" her father asks her. "Yes, happy" she responded. Siobhan is a 'jolly child' so full of surprises, she puts on her shoes and said, "lets go to mail grand mom this letter", showing me her color picture she place in an envelope that has her full name written on.  She love picking out cards, in the supermarket, reads it first and write her name, as supposed as signing her name.  Another time while she was busy playing her video game, I called her for lunch, in which she responded "okay mommy coming", again I will call, she would say "coming mommy in ten minutes", this chuckle me!

Another challenge, recently (as in growing-up) was when she reacted well at the "beauty salon" getting her long haircut for her 7th birthday.  This was her second haircut from since she was two, (before diagnosed)– what a day that was on that first haircut, when she screamed and went into a tantrum.  But to my amazed, how well composed she was, waiting excitedly, looking into the mirror, not a scream when the comb went into her hair.  Looking at me smiling, I was stunned, fearing there will be some signs of behavioral problem.  I feel so relief, and proud to see she is no differ than other children her age. She was happy more when I played her DVD player showing Cinderella- this made her day!

Another challenges or I must say, how well observant she has become, in showing us her smartness, interests and desires on how well she is in using the computer, in wanted to see her other favorite show "Tom & Jerry", she had grew to love over the summer break.  Her eldest sister tired of putting on the computer to show her (since she don't have it on her video), showed her once how to do it.  I should say, she has a photo-memory mind, for she went into 'U-tube, click into search and spell Tom & Jerry, to go into the show.  How remarkable this is to us, but yet scary, for she can now do researched on other topics (sites) I must say! She however, searched and show us the site to buy her a Tom & Jerry DVD- saying, "mommy, lets buy"- see!

Our 'astonishing' challenges, 'the most awaited one', all parents would love to see of their autistic child, is how "well composed" she is in the eye of the public.  How proud a parent can be of such achievement.  This was on one occasion, she went along shopping, without any tantrums', walking hand in hand, making choices, as helping out selecting things she like to buy and feeling contented holding unto her own shopping bag as she parades the entire length of the Mall for hours.   
Siobhan's journey
Siobhan had come a long way, without the help of medication or specialized medical treatment.  We are proud of her achievements, her ability to learn, her strengths, her struggles within a world she was locked in when she was diagnosed in May 2006 with PDD.  Siobhan before diagnosed was a "shy/quiet" girl afraid of the world and it's surroundings not fully understanding or fully gasped the associations of things for several of reasons.  She had to relay on the comfort of her parents, mainly her attachment to her mom and the focus of her books and TV, her room where she dwell most of the time.  Unable to communicate and socialize with other people around her.    At presently, because of her achievements in reaching towards her mainstream, she is aware of who she is, as being in the family and being among people who love her and wanted to do things like other people, just being a 'typical' normal seven year old child, exploring her options, awareness, desires, to do things and being the center of attention.  She is also aware of danger surround her, to be careful, take her time. Our life, as a family, has changed from the time we discovered the word "autism", as applied to our beloved child, a child we had watch and was somehow in denial, in seeing the situation before our eyes.   We went through struggles, frustrations, bringing with us laughter and tears of joy trying to understand the world and mind of our "autistic child".   Her two older siblings (much older) had it more difficult dealing with her, but grew to understanding her and the symptoms that comes with being an "autistic" person.  This makes them closer to her, treating her with more love and attention, likewise as equal to them.  Siobhan is a child who is trying desperately to come out of her World to meet us half way for acceptance in society.  Our heart is full with 'happiness' and had been 'lifted up' as 'hope' in overcoming Autism to a certain degree. A child we now see with limited 'behavior problems', less 'compulsory behavior' patterns, with more knowledge of speech and awareness, as developing skills and reaching towards her independence.  We still have a long road ahead of us, as she matures into adolescents', overcoming obstacles that will come her way as she faces life challenges.  Challenges that will be difficult for her, as a learning process for her. We support her with all our love, guidance, being there for her, for she is a special and unique child set in her own autistic ways, enjoying life, looking on through the mirror of our eyes, waiting to be embrace for who she is.
WRITTEN BY HER MOTHER:
JOCELYN P.
TEXAS
DATED: 8/31/09

Presently, Siobhan is eight years old in 3rd grade, progressing well to her abilities as she advances in her mainstream class.  She is more aware of things as having an open mind and opinions on things as well as participating in her daily activities at school. She just wanted to be treated as a typical eight year old child with the same advantage and encouragement for her to be motivated, as she realizes she has no disability, she has a ability/potential to move forward as to excel in whatever she is capable of doing… She is an expert on computer and video games and love music, as having the potential to play the piano.  She is a quick learner and has a good memory. She is a happy, lovable, active child who loves to explore and seek answers as in a learning process for her.
DATED: 12/08/2010